Asian tableware for a Far Eastern Style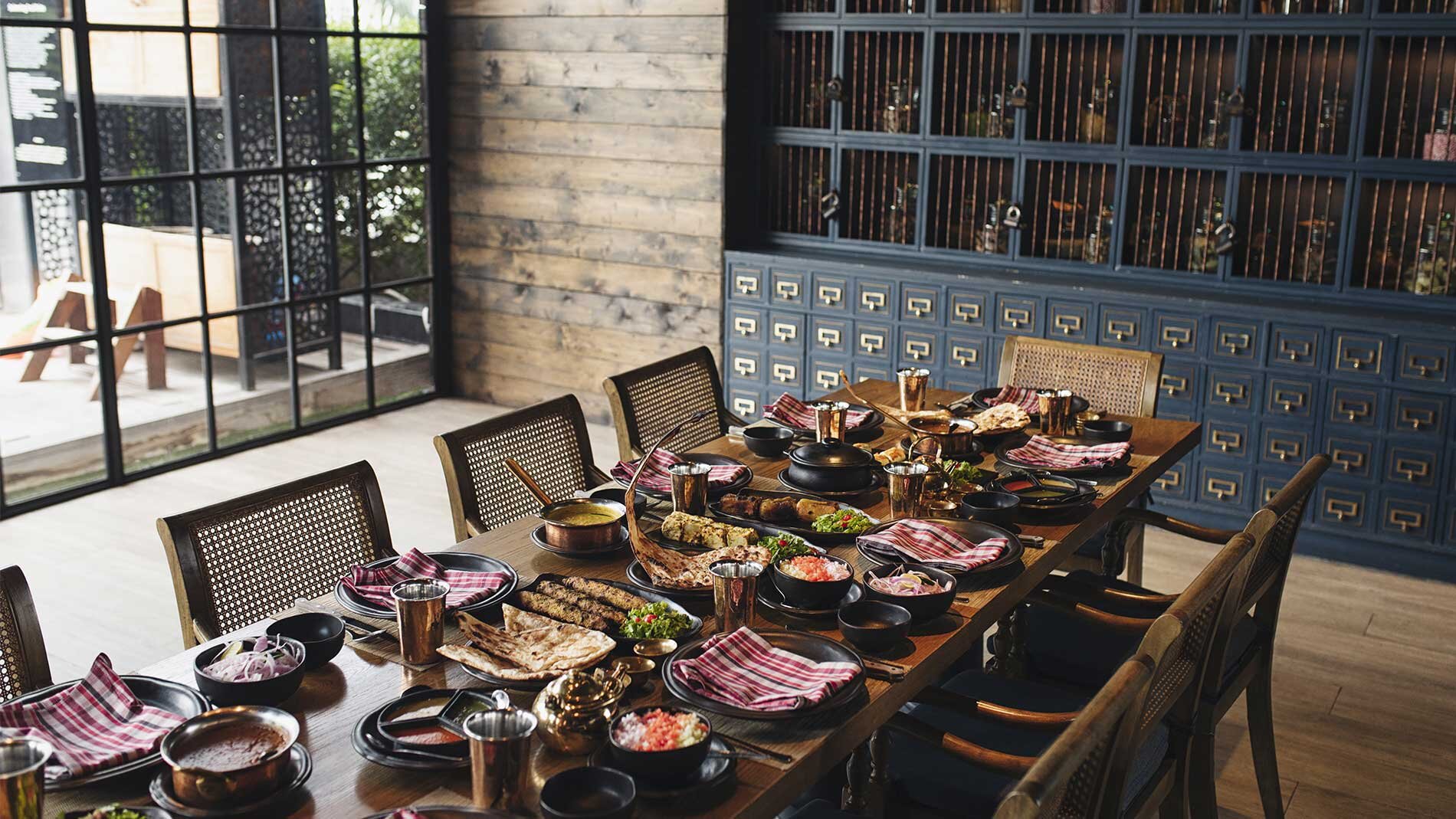 Set Accents with Asian style Tableware
When thinking of an Asian interior style, lotus, orchid and cherry blossoms immediately come to mind, but Buddha statues, lanterns and natural materials, especially dark wood and bamboo mats, also characterise this style.
Also typical are clear lines and individual pieces of furniture that are set off as accents in the room. Mostly, these are simple chests of drawers made of wood with brass handles. In terms of colour, we move in a rather monotonous atmosphere in shades of green and beige.
Asian tableware such as Japanese teapots, ramen bowls, Asian bowls or an authentic gaiwan can also be used to set accents on the table.
ASIAN
Asia tableware overview
Nowadays there are a lot of Asian restaurants all over the world. The popular Asian cuisine can be found not only in Chinese, Japanese, Vietnamese or Thai dishes, but also in Korean or Indian restaurants. Whereby it is always about the optimal presentation of the food. Tableware in Asian look underlines the exotic flair of the dish and the location.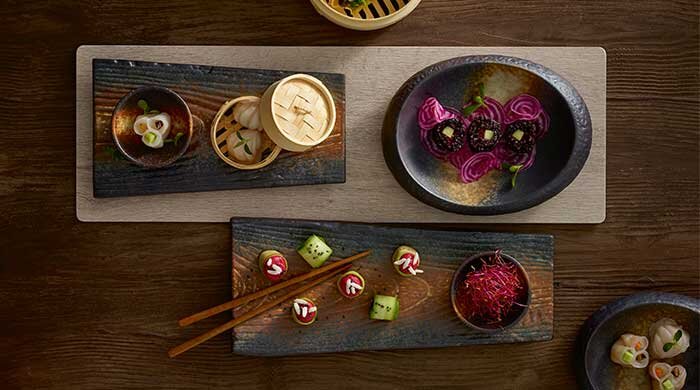 Food trends 2022 point towards Asia
Asian food has been absolutely trendy for a few years now. Japanese noodle soup "ramen" is still one of the biggest food trends. But in 2022, the Japanese are once again setting a new food trend with their "national mushroom" koji, followed by the Chinese spirit baijiu and the climate hero seaweed, which is preferably served in Asian cuisine.
Food trend 2022 No. 1: Chinese liquor Baijiu
Chinese baijiu is the world's most consumed spirit, surpassing even the total consumption of whiskey, vodka, gin, rum and tequila. The high-proof white liquor is distilled from grains such as rice, millet and sorghum according to a millennia-old tradition. However, many consumers in the West have never heard of baijiu. This may be due to its unique taste, which takes some getting used to. However, the various baiji liquors are divided into four broad categories - strong flavor baijiu, lead flavor baijiu, sauce flavor baijiu, and rice flavor baijiu - which differ in taste.
Currently, however, baijiu is well on its way to being given the same international status as tequila. Many producers from China, (such as Kweichow Moutai,) are already working on international export.
Food Trend 2022 No. 2: Koji - The Popular Mold
Japan's "national mushroom" koji will take the spotlight in 2022. The versatile, if often hidden, fermentation and flavor ingredient has been prized by chefs around the world for years. Now it's starring in plant-based meats like koji bacon and in historic Japanese whiskey.
Koji is the name for rice or barley inoculated with the mold Aspergillus Oryzae. Set in a similar way to yeast dough, it ferments at a certain temperature and humidity. As it grows, koji produces certain enzymes that break down proteins, fats and sugars, which then play a role in processing ingredients. Koji mixed with grains or beans is also used to make miso paste, soy sauce or sake. Koji also brings out the coveted fifth flavor, "umami."
Food trend 2022 No. 3: Seaweed (kombu algae) as a healthy companion
Another Food Trend 2022 is the climate hero seaweed - a fast-growing marine plant with versatile uses and excellent nutritional values. Seaweed is a member of the algae family and exports much of its biomass to the deep sea, allowing it to permanently remove carbon dioxide from the environment. As a result, it is seen as a savior in the climate crisis.
Many innovative food and beverage companies use this ingredient in all sorts of products such as burgers, popcorn, snacks and even baby food. Apart from that, it has been a staple food in China, Korea and Japan since prehistoric times and is suitable for use in soups, sauces, salads and even sweet desserts.
Dashi with mussels, spring rolls & nori salt with sesame seeds
For the broth/dashi
1,5 kg mussels
2 shallots
3 cm fresh ginger
100 ml sake
50 ml mirin
800 ml chicken stock
St. kombualge 5x10 cm
2 shiitake mushrooms dried

For the spring rolls
120 g chicken breast
40 ml cream
1-2 tsp. light soy sauce
2 tbsp. chive rolls
8 sheets of spring roll dough
1 egg white

For the nori salt
2-3 nori seaweed leaves
1 tbsp. roasted sesame seeds
1/2 tsp. salt
Preparation
For the broth, wash the mussels and remove the opened ones. Peel and chop the shallots and ginger. Sauté both in a little oil and deglaze with rice wine and mirin. Add mussels and fill up with chicken stock. When the mussels have opened, drain them in a sieve and remove any that are still closed. Pour the hot stock into a saucepan and let steep for 30 minutes with the kombu seaweed and shiitake mushrooms. Scoop out the clam meat and leave some in the shell for decoration.

For the spring rolls, chop 1/3 of the mussels. Cut chicken breast into cubes and freeze for 30 min. Blend with cream and soy sauce to make a farce. Fold in mussel meat and chive rolls. Cover the bottom half of the pastry sheets with the filling, brush the edges with egg white, fold in the sides and roll.

Coarsely grind the nori seaweed, sesame seeds and salt in an electric coffee grinder.

Slice the radish with a spaghetti vegetable slicer. Cook the noodles and vegetables in salted water until al dente. Arrange in the hot broth along with the clam meat and sprinkle with chili flakes.

Fry the spring rolls and serve with the radish and Nori salt with the broth.
Asian tableware COAST & COUNTRY
The Asian tableware COAST & COUNTRY is a self-developed stoneware collection of the brand PLAYGROUND. It mimics a cast iron look and is ideally suited as tableware for Asian dishes due to the central ridges of the plates and platters. The bowls and dishes of COAST & COUNTRY are often used as ramen bowls or Asian bowls, which are held by a notch on the bars of the plates. In addition, the plates and platters offer an optimal storage surface for chopsticks or napkins and ensure that you do not burn your fingers. Apart from that, the bars can also be beneficial for optimal food separation.