Platters for serving, buffets or caterings
In the catering industry, serving platters are ideal for arranging and draping a wide variety of dishes. Whether sausage, cheese, meat or fish platters for sushi, small canapés as well as skewers and asparagus. They find their use as buffet or catering platters, but also instead of a plate on the table.
All Serving platters
Price per piece, plus VAT; Prices may vary for requests for deliveries abroad
The differences of serving dishes
Serving platters differ not only in their shape, but also in their material. When choosing a suitable serving platter, the intended use should also be well questioned, because not every serving platter is suitable for every use.

Buffet platters
If the platter is to find its use on a stationary buffet, angular or rectangular shapes without or with a small flag are particularly suitable. Placed side by side, they are space-saving and also offer a particularly large amount of space for the food, which can literally be arranged right into the corners. Large serving platters create a generous buffet landscape next to large bowls. Since porcelain can be used for hot or cold food as desired, buffet platters are the preferred choice of this material.

Catering platters
Catering plates must fit into a smooth flow at well-paced events. Starting with transportation, stackable platters take up less space. Also in handling, large serving platters provide enough space for small portions at the flying buffet. A rim provides a better grip for service, but the weight of the catering platters should also be kept in mind. This is because hard porcelain is much lighter compared to ceramic or slate.

Serving platters
On the table in the restaurant, the platters for serving food provide a special character. Square or asymmetrical serving platters stand out from the crowd of the usual round platters. Oval platters look soft and traditional. In addition to shape, plattes captivate with color. Different glazes, especially on ceramic serving plates, support the food presentation to the guest. Preferably, rectangular or oval serving plates are also used as a substitute for plates on narrow tables or at bar counters.
Different materials compared
Serving platters made of porcelain
Serving platters made of hard porcelain are preferably used in gastronomy. They are particularly robust and the glaze is scratch-resistant, tasteless and dishwasher safe. In addition, both hot and cold dishes can be served on the porcelain serving plates, because hard porcelain has excellent heat and cold storage properties. In combination with other dishes from the same collection, the platters stand out, but can also be well integrated into a uniform and thus coherent overall picture.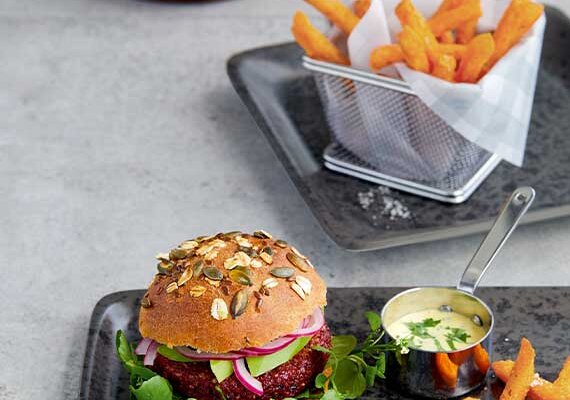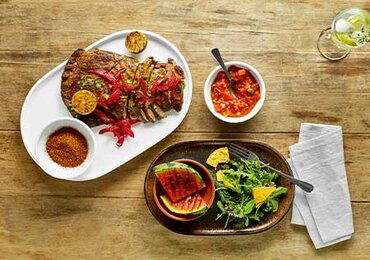 Stone serving platters like marble, terrazzo or slate
Plates made of marble, terrazzo or slate are ideal eye-catchers on any table. The natural material stone keeps cold temperatures for a long time and is often used for serving cool food. However, large serving platters made of marble or slate are particularly heavy and break easily. In general, stone serving platters should be re-oiled from time to time and cleaned by hand, otherwise the feet will loosen over time. In addition, marble, terrazzo or slate should not come into contact with acidic foods.
Ceramic serving platters made of high-quality stoneware
Serving platters made of high-quality stoneware stand as a counterpart to fine porcelain serving platters with their rustic, handcrafted look and unique glazes, which also make them suitable for the dishwasher. Different textures on the surface characterize the oval and square serving plates made of high-quality ceramics. They offer an ideal eye-catcher and are therefore especially popular for serving appetizers, main meals or desserts.
INSPIRATION FOR PLATtErS
More inspiration for food presentation with platters