Product features Disposable
Sugar cane
Our disposables are made of 70% sugar cane and 30% FSC pulp. The articles have no coating, but the material contains 0.2% additives. During the production of sugar from sugar cane, waste materials are produced, which were usually simply disposed of. This "waste" is used to produce ecological and sustainable disposable tableware. The material is ideal for making unique shapes with a natural feel. They are suitable for liquid dishes as well as for cutting of solid food. The items are waterproof, grease-resistant, temperature resistant from -20 to +110°C, suitable for microwave and fully compostable. Generally it takes between 30 and 60 days for them to fully degrade.
The shell of the coconut is a natural, robust and resistant material, which is ideal for serving food, especially in the street food scene. Due to the growing global demand for coconut oil, the empty coconut shells left over from the extraction of coconut oil and can be
further processed accordingly. Articles made of coconut are sustainable and environmentally friendly. Furthermore, they are temperature resistant from -20 to +150°C and can be used in the microwave.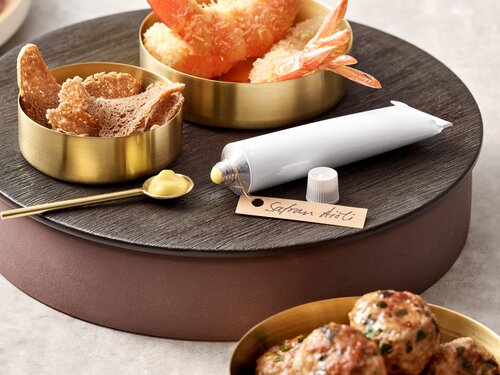 The tubes are disposable. Our aluminum tubes come from a pure pharmaceutical production, i.e. they are produced and packed under strict hygienic conditions. The screw cap is sealed with an aluminum membrane,
which serves as protection for your filling goods until they are opened. Through the cap, the clean opening of the tubes is no problem at all. The tubes are filled via the open rear end, the filling height should not exceed 2/3 of the tube to allow subsequent folding of the end. The tubes are painted neutral white on the outside and can be labeled or inscribed for identification.
Not dishwasher safe
Not microwaveable
Not oven safe
Price per piece, plus VAT; Prices may vary for requests for deliveries abroad