Courage to think outside the box?
As one of the world leading companies for professional porcelain and a specialist in international tableware, we are looking for people who want to help shape their personal future as well as the future of our company. Thanks to permeable structures and intensive promotion, we offer excellent development and career opportunities. With us as one of the largest employers in the region, you can expect a wide range of tasks and opportunities.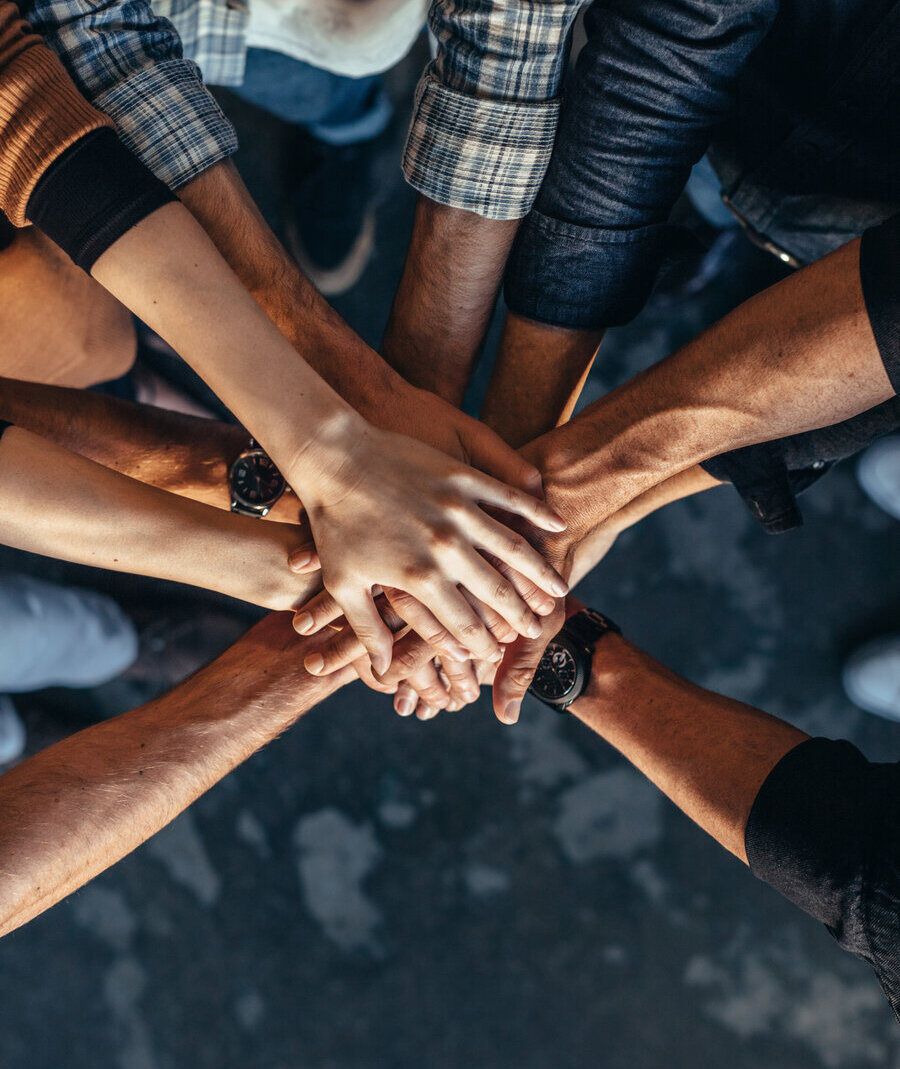 Career at BHS
"Since we are living in a time of social change, people who fit in here are those who can think out of the box. In our company, there is an innovative and lively working atmosphere with flexible structures in order to allow individual capabilities free rein and to enable employees to increase their knowledge continuously. As a result, permanent ongoing qualification is a central component of our business model. Whoever is prepared and keen to struggle continuously for the better solution, and sometimes to strive against the stream, will find that they are at home with us."
We cultivate change and promote development
Our corporate culture demands a lot from every employee. But it also gives a lot back. Thanks to intensive support, interesting opportunities for further training and permeable structures, everyone finds the opportunities to develop personally and train their talents. It is only because they are constantly developing their know-how and skills that we can operate successfully with new intelligent technologies and remain committed to Germany as a business location.
A long history
We have not just been running our business since yesterday. In fact, our company can proudly look back on over 200 years of success and is now a global player based in Germany. In our industry, we move like fish in water. One crisis or another has challenged our ability to survive and made us more resilient, but also better. As a result of far-sighted management, we have matured into an extremely professionally positioned organization in a fascinating market and with fascinating products that are in use around the world.
Because future viability does not come from rigid adherence to systems and business models. Quite the opposite. We cultivate a culture of permanent change, of flexible, vigilant adaptation to changing social conditions and markets. Only in this way can we absorb the enormous structural change in our industry and use it positively for our own benefit.
Our region
Of course, our locations in Selb, Schönwald and Weiden i. d. Opf. are not big cities. But that doesn't mean it's boring by a long shot. There are also many things in our region that make life easier and worth living. For example: affordable living space, short distances, a good infrastructure or secluded natural beauty spots. There is also no shortage of kindergarten and daycare places in our region, and schools, from elementary schools to high schools, are close by and children come from the immediate vicinity. In the Upper Palatinate and Upper Franconia, we maintain a good neighborhood, are down-to-earth, as well as close to home and also proud of our region.
Our locations and their cities
Schönwald is a small town located on the historic Porcelain Road in the Fichtelgebirge Nature Park, nestled at the foot of the Great Kornberg Mountain. Just under 6 km from Selb, they share the many recreational opportunities in nature, the proximity to the rock labyrinth and the unique Luisenburg Festival in Wunsiedel. If you want to breathe more city air, you can stroll along the romantic Biedermeier facades in Hof, which is only 20 minutes away. You can also enjoy a stroll in the Theresienstein Bürgerpark, one of the most beautiful parks in Germany.
The district town, which has a population of just under 50,000, is just as tempting to go on an extensive shopping spree as it is to try out the varied gastronomic scene or attend a concert by the Hof Symphony Orchestra. With the annual International Hof Film Festival, the city provides a stage for the avant-garde. What also makes Schönwald attractive, like Selb, is its proximity to the Czech border. Only an hour away by car, the old spas of Karlovy Vary and Marienbad can be discovered. A weekend trip to Prague takes just over 2 hours.
(Picture source: Weißenstädter See - © TZ Fichtelgebirge / A. Hub)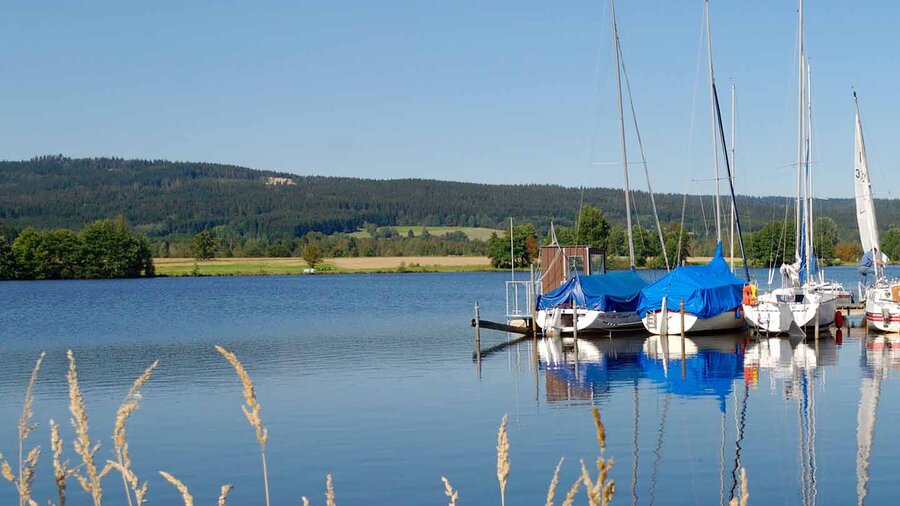 The "white gold" has shaped the image of the city of Selb. World-famous porcelain brands have their cradle here. Therefore, it is not surprising that you come across the history of porcelain every few meters and that the State Museum of Porcelain "Porzellanikon" is located here. Porcelain lovers visit the annual "Weeks of White Gold" as well as the porcelain flea market on the first weekend in August.
Selb also has much to offer nature lovers. On well marked paths and trails, the gently rolling landscape of the Fichtelgebirge invites you to go hiking, biking, cross-country skiing or, in summer, swimming in the forest pool "Langer Teich". A tourist highlight is the Luisenburg rock labyrinth, which captivates tourists and locals with its mossy caves, huge granite boulders and breathtaking vantage points in the shade of towering rock formations. The Luisenburg Festival has been unique for almost 130 years. Open-air theater at the highest level, presented on Germany's oldest natural stage in the middle of the rock labyrinth.
(Image source: Luisenburg rock labyrinth - © TZ Fichtelgebirge / A. Hub)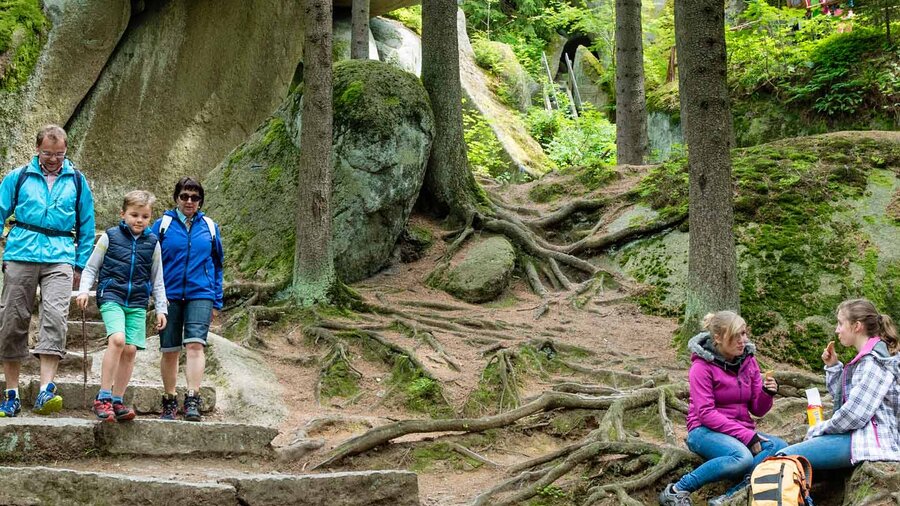 Weiden is often referred to as the "cultural pearl in the Upper Palatinate Forest". The Upper Palatinate Forest is historically the area between the old imperial cities of Regensburg and Eger in Bohemia.
Today, the region is a popular vacation destination with romantic towns, pond and lake landscapes, castles, palaces and monastery churches. On the Goldsteig trail or the Burgweg (Castle Trail), you can combine sporty hiking with a variety of cultural pleasures on tours lasting several days. Today, Weiden itself is a lively, modern city with a lovingly restored old town. Here, chic boutiques line up with small stores, galleries and restaurants. A gem for art nouveau fans is the Josefskirche church in the heart of the city. Culture lovers get their money's worth in Weiden at numerous concerts, exhibitions, theater performances and readings.
Recreational facilities for every imaginable sport will delight sports fans, as will relaxation in the "Sauna and Theme World". The university cities of Bayreuth, Regensburg and Nuremberg with their numerous tourist attractions and nightlife options can be reached in about an hour.
(Image source: Old town hall in Weiden i.d. Opf. - © Tourist-Information Weiden i.d. Opf.)