Interior & tableware
Stylish interiors and excellent tableware are at the heart of successful gastronomy. Discover a fascinating world where aesthetics, ambience and pleasure go hand in hand in our The Tableware Blog. Find out how to bring your space to life and create memorable dining experiences.
All articles
Culinary experiences in a stylish ambience: Interior & tableware for restaurateurs
Discover how you can create unforgettable moments for your guests through stylish design and creative table art. Inspiring ideas and current trends are waiting for you to take your gastronomy business to the next level!
Subscribe to our newsletter and look forward to exclusive content, practical tips and insider secrets that will help fit out your restaurant with a unique interior as well as inspire your guests with creative tableware.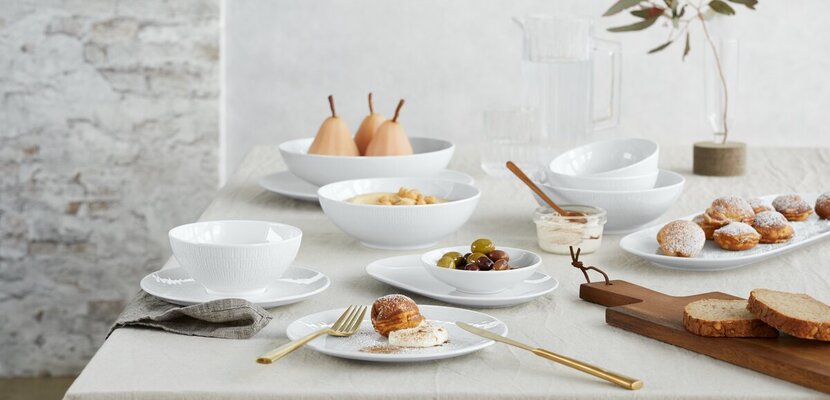 Interior & tableware as success factors
Great gastronomy is much more than just culinary masterpieces. A harmonious interior and well thought-out tableware are crucial to delighting your guests from the very first second. The trick is to skillfully combine style, functionality and your restaurant's own character. From the choice of furniture to the correct placement of cutlery and dishes, every detail contributes to the overall effect.
The interior of a restaurant is like a canvas where you bring your gastronomic vision to life. It reflects the identity and atmosphere of your establishment and has a significant influence on your guests' well-being. Our "Interior & tableware" blog category contains tips and inspiration on how to create an inviting and cozy atmosphere with colors, lighting and interior design.
Create unforgettable moments with a symbiosis of interior and tableware
Excellent tableware is the icing on the cake of your gastronomy. This is not only about choosing the right tableware and tablecloths, but also about the art of hosting.
Get inspired by innovative ideas that will make your gastronomy a place to remember and a place that guests will love to talk about.
Sign up for our newsletter and keep your finger on the pulse!
Don't miss new trends and inspirations around interior & tableware for restaurateurs. Sign up for our newsletter today and get exciting tips and information delivered straight to your inbox on a regular basis. Always be one step ahead and make your gastronomy a place that will enchant your guests.