Quality porcelain from BHS Tabletop
BHS Tabletop and our BAUSCHER and SCHÖNWALD brands are synonymous with high-quality porcelain, which lies at the heart of modern fine dining. Our skills have been refined over 135 years of experience in producing ceramics. This expertise makes it possible to create quality porcelain that perfectly unites form, function and beauty. Our porcelain is produced using only the best materials in one of the most modern manufacturing facilities in the world. To provide you with perfect quality, we perform rigorous quality checks and testing at each stage of production. Unlike most other manufacturers, we also lab-test each individual characteristic of our porcelain.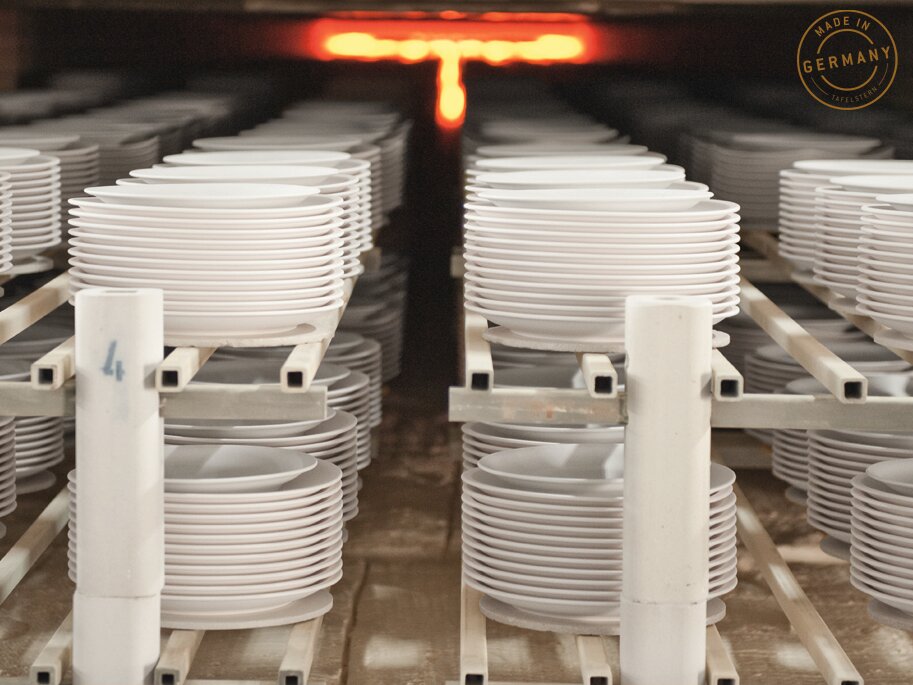 Professional quality porcelain "Made in Germany
Our hard porcelain, one of the hardest materials in the world, is characterized by a very high edge impact resistance and an extremely high scratch resistance of the glaze. Using the best raw materials and a sophisticated composition of kaolin, quartz and feldspar, fired at over 1,400°C, we create a porcelain with premium quality.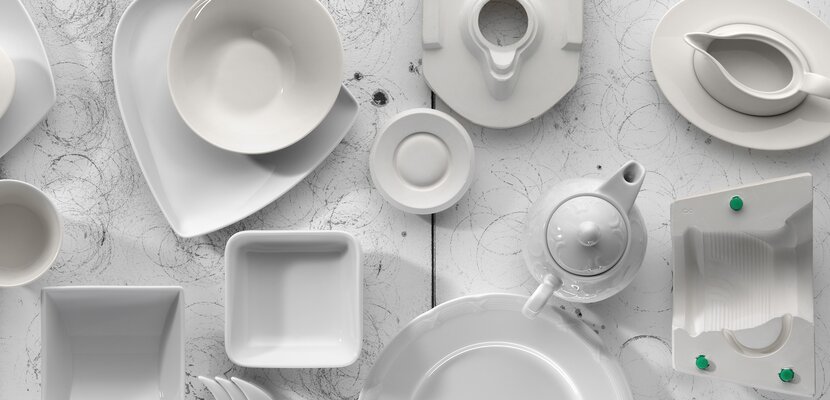 Quality porcelain is hygienic
The hardness of porcelain and glaze produced by the highest firing temperatures guarantees a hygienic surface and long-lasting shine.
Quality porcelain is shock resistant
We use the best materials and extremely high firing temperatures to make our porcelain highly resistant to shock.
Quality porcelain is smash resistant
Hard porcelain reduces breakages, making it perfectly suited to the special requirements of the restaurant industry.
Quality porcelain has durable glazing
The high firing temperature and chemical composition of our glaze makes our porcelain wear and scratch resistant.
Quality porcelain stays warm or cool
The density and mineral structure of our porcelain means that it has lower thermal conductivity than either tempered glass or metal dishes.
Quality porcelain is dishwasher safe
The in-glaze decoration provides unparalleled colour intensity. Each design is laboratory tested to ensure that even after years of use, your porcelain looks as good as new.
Quality porcelain is stackable
The stackable design saves space, meaning that it also saves costs.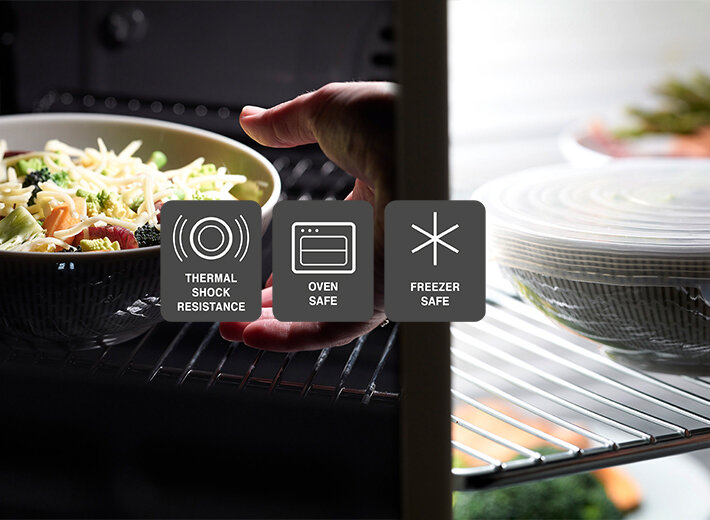 Quality porcelain is thermal shock resistant
Hard porcelain tableware is resistant to thermal shock and high temperatures. Sudden changes in temperature (thermal shock) of more than 220°C should be avoided.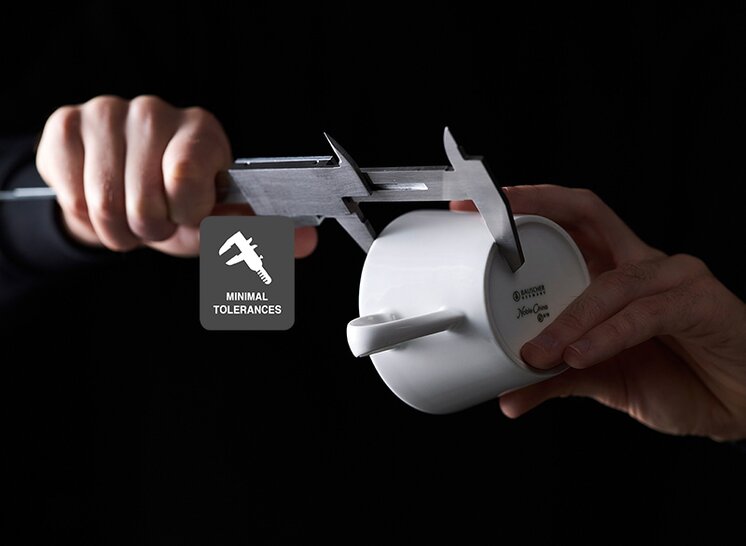 Quality porcelain has minimal tolerances
In natural materials, it is impossible to eliminate tolerances entirely. However, many years of experience have allowed us to minimise changes during the firing process. This, combined with thorough quality controls on our porcelain, means that we can keep tolerances as low as possible.
Quality porcelain in three varieties
Depending on its composition and the firing temperature, porcelain can take on different properties. Our quality porcelain is fired twice: A bisque firing at 960°C, followed by a glaze firing at over 1,400°C. The rule for firing is the higher the temperature, the harder and more durable the glaze becomes. Our firing temperature is around 200°C higher than most manufacturers of catering porcelain, which makes our hard porcelain a cut above the rest for the restaurant and hotel industries.
Maximum possible porcelain and glaze hardness, due to firing temperatures above 1,400 °C
Durability, due to impact-resistant edges
Abrasion and scratch resistant glazes
Hygienic harmlessness, due to smooth and resistant surfaces
Optimal storage of heat
Production 100 % "Made in Germany"
State-of-the-art research and testing laboratories
Highly automated technology
Energy-efficient, resource-saving production ISO 14001 and ISO 50001 certified
Hard Porcelain, Noble China, Duracream
White porcelain: A tableware classic. The robustness of hard porcelain makes it a long-lasting partner to the restaurant and hotel industries. Thanks to the in-glaze decoration, even decorated porcelain is long-lasting and maintains its bright colours.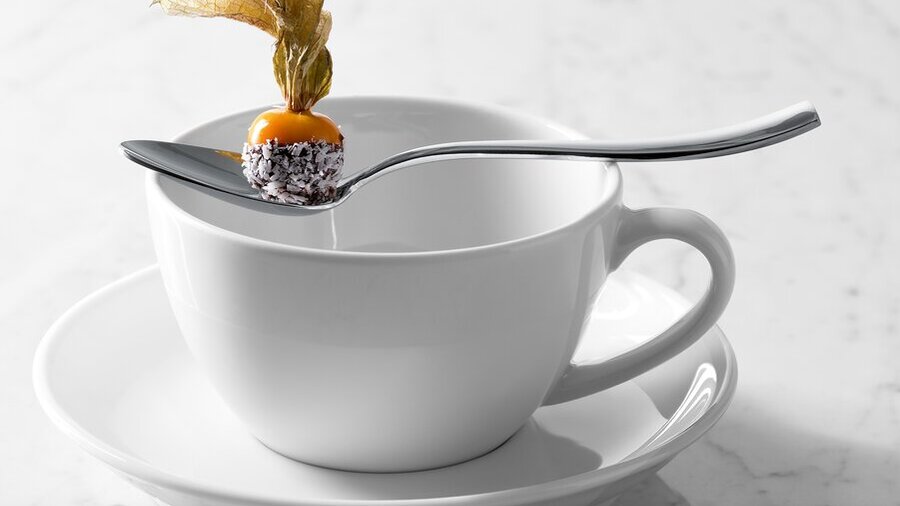 Noble China is made of an innovative hard porcelain mass using materials based on the components of hard porcelain. It does not contain lead, cadmium or animal products. Its distinguishing features are its delicate feel and elegant BoneWhite colour.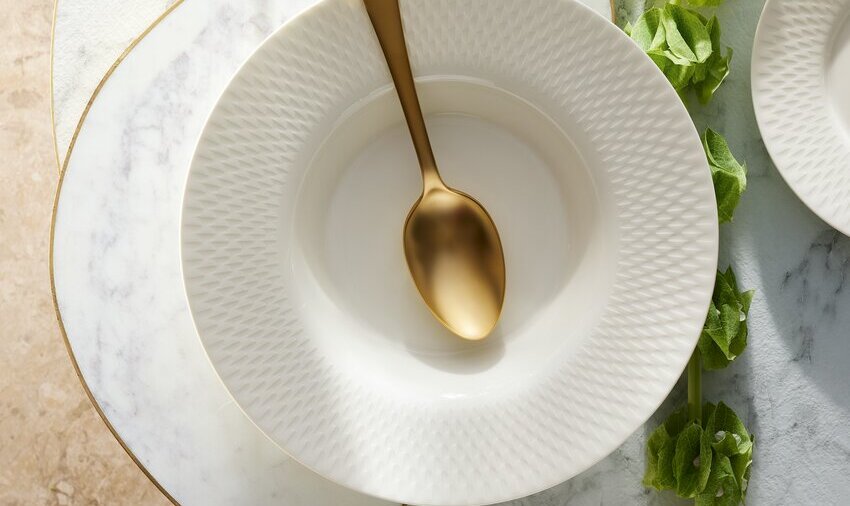 Duracream is a hard porcelain mass that we have developed ourselves. It has the same robust properties as hard white porcelain, and due to the coloured mass, the finished porcelain has a shimmering, creamy tone.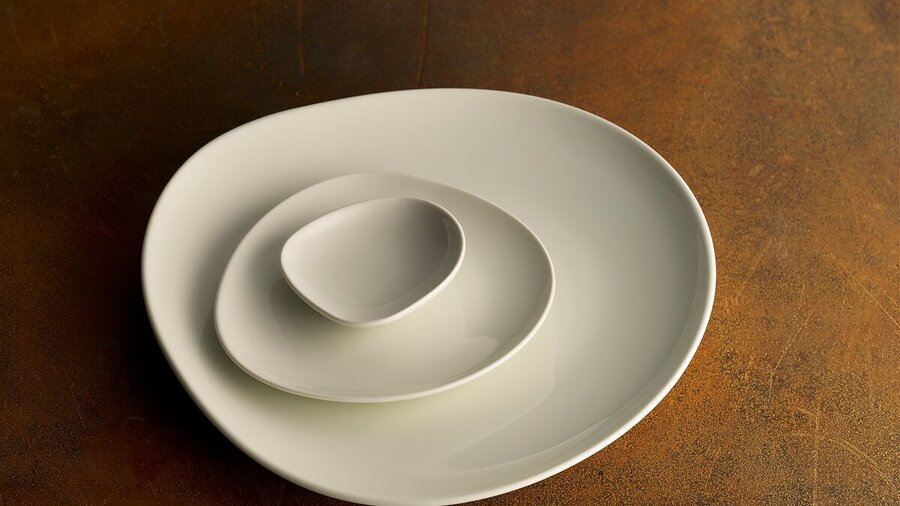 Porcelain is hygienically safe
Maintaining hygiene standards has always played an essential role in the hotel, restaurant and communal catering industries, but in Covid19 times, the issue comes even more to the fore.
Due to the manufacturing process and chemical composition, hard porcelain has a virtually abrasion- and scratch-resistant, completely sealed hygienic surface. The high firing temperature of hard porcelain at over 1,400° C also results in an exceptionally hard glaze whose resistance to abrasion is superior to other materials such as Vitreous China, Bone China or even stoneware. The durable, very smooth and non-sticky glaze surface ensures that hard porcelain tableware is easy to clean and thus has excellent hygienic properties. Also, unlike open-pored material surfaces such as stoneware or earthenware, porcelain with its low porosity offers the possibility of immediately removing any deposits of germs and bacteria.
Unlike porous materials, these cannot "hide" in the pores. Porcelain also has low thermal conductivity due to its density and mineralogical structure. Neither tempered glassware nor metal can store pre-tempered heat as long as porcelain. The formation of heat-sensitive viruses, which would survive longer at lower temperatures, is slowed down. It is no coincidence that hard porcelain has always been used predominantly in the catering industry. It's not just the robustness and durability of the material that makes it the perfect companion in the professional kitchen.