Healthcare
Schönwald
Form 898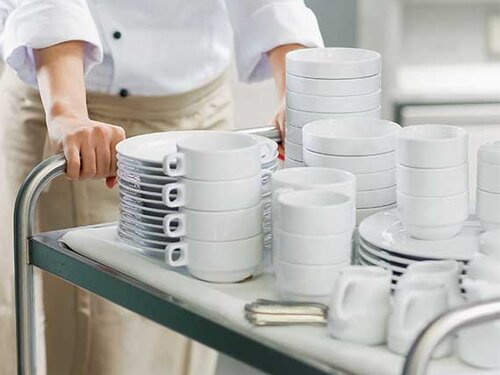 Service parts for each service
The tableware of FORM 898 convince by their consistent, timeless design. Through perfect stackability and by multiple use this functional porcelain fascinate. Thus, Form 898 is a porcelain series in pure culture.
HEALTHCARE PARTNER
More colour in everyday hospital life
Decor MODERN SQUARE 62807
Color with system
High quality porcelain with colorful décor exudes joie de vivre in the patient's room, and this is known to promote the recovery process.
But our decorations can do much more: On plates, cups, or small jugs, they help the patient to better see the handles or plate and thus pick up the food more independently.
Different colors can also be used to optimize kitchen processes, e.g., to for different systems. Take advantage of our large selection of decors. Our consultants will also be happy to develop an in-house decor together with you.
Price per piece, plus VAT; Prices may vary for requests for deliveries abroad