Modern Office - Coffee in the office
A delicious cup of coffee in the morning and the day can start. Good coffee in the office is appreciated not only by its employees, but also by customers. As a daily companion at the desk, in meetings or customer appointments, the popular bean is enjoyed in espresso cups, coffee cups or coffee mugs. Freshly ground, it is not only the type of espresso or coffee that plays an important role, but also the cup in which the hot beverage is served.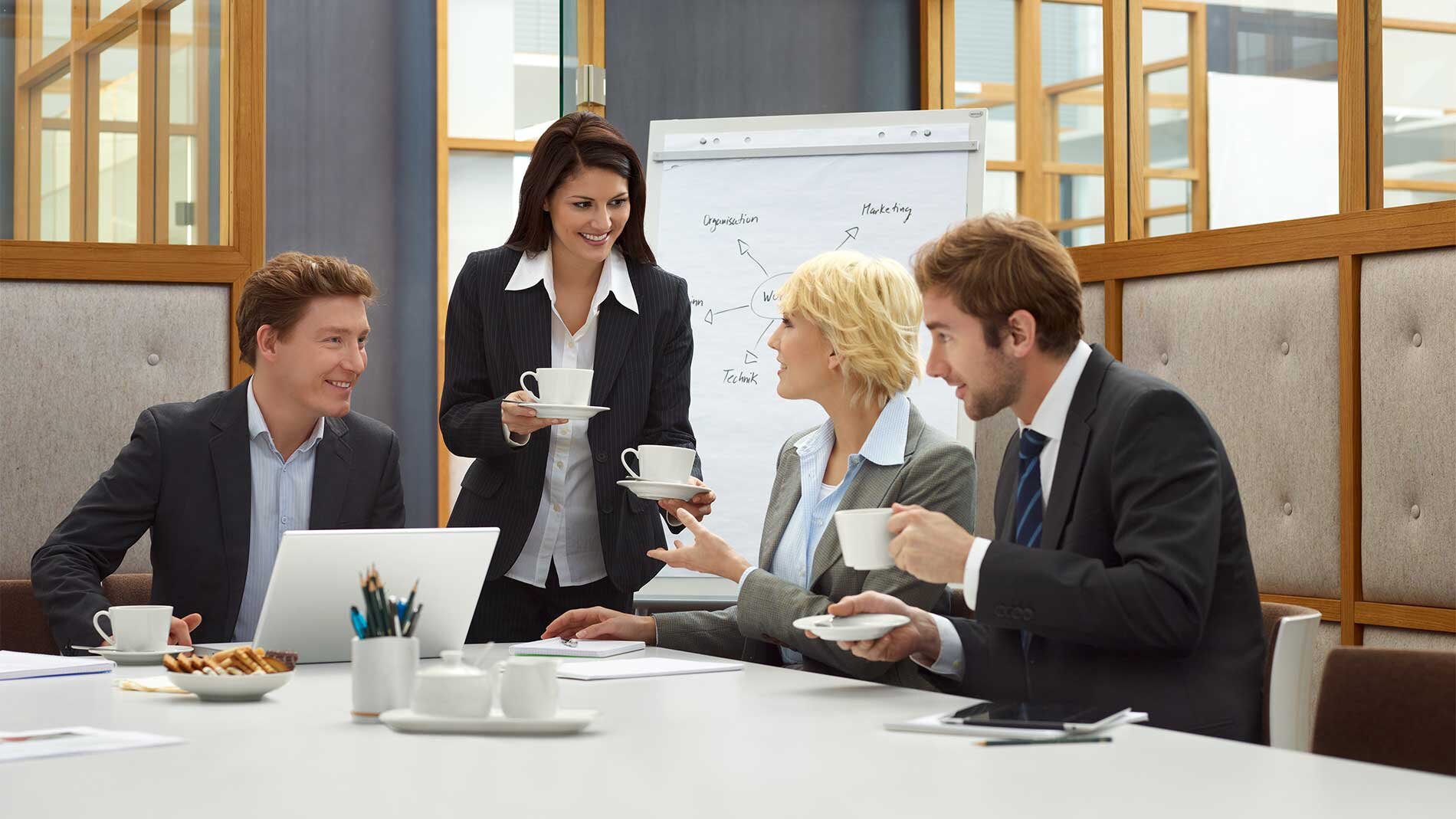 Porcelain espresso cups and coffee mugs
Espresso cups and coffee mugs, as well as the plates of BHS tabletop are made of hard porcelain and thus master the office everyday life for many years. The material porcelain has excellent properties and is particularly durable. The tableware is therefore dishwasher safe, unbreakable and tasteless. In addition, it is scratch-resistant and can of course be heated in the microwave without any problems. Apart from the fact that porcelain is easy to clean, it also retains the heat of the coffee longer than other ceramic cups.
For more individuality, we are happy to put your company logo on the espresso cups and coffee mugs, dye them in your corporate color or develop a decor - as the icing on the cake for your corporate design.
Porcelain tableware set
For frahling lovers there is the office set with selected items from the COFFEELINGS collection. The Bauscher brand stands for precision in function. Thus, COFFEELINGS with its functional design and the loop-shaped curved handles of the cups and pots is considered an easy-care, durable piece of jewelry on the table. Complementing the espresso cups, coffee cups and coffee mugs, this collection offers mugs without handles, coffee pots, sugar bowls or even small bowls. Of course, tea can also be drunk from the cups. COFFEELINGS also offers matching teapots with a capacity of 0.4 liters.
Office set BASIC contains a total of 30 porcelain and glass items. These include 6x espresso cups 0.09 l with matching saucers 12 cm and 12x coffee mugs or large tea cups with 0.28 l capacity made of porcelain. In addition, 6x latte macchiato glasses belong to it.
Consisting of:
6 x 41 5258 Upper 0,09 L
6 x 71 6909 Lower 12 cm
12 x 41 5679 Mug 0,28 L
6 x 44 9235 Latte Macchiato glass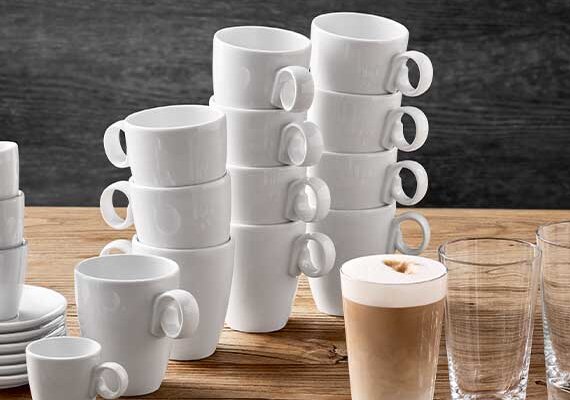 The PLUS office package includes a total of 42 porcelain and glass items. Based on the office package BASIC, 12x cake or breakfast plates in coup form are added.
Consisting of:
6 x 41 5258 Upper 0,09 L
6 x 71 6909 Lower 12 cm
12 x 41 5679 Mug 0,28 L
6 x 44 9235 Latte Macchiato glass
12 x 71 1220 plate flat 20 cm
The Office Set DELUXE is based on the Office Set PLUS and additionally contains 12x flat dinner plates 26 cm and 12x deep plates or soup plates 18 cm. These are also without flag.
Consisting of:
6 x 41 5258 Upper 0,09 L
6 x 71 6909 Lower 12 cm
12 x 41 5679 Mug 0,28 L
6 x 44 9235 Latte Macchiato glass
12 x 71 1220 plate flat 20 cm
12 x 71 1226 plate flat 26 cm
12 x 71 1318 plate deep 18 cm
How is espresso different from coffee?
If you think that different beans are used in the roasting of espresso and coffee, you are unfortunately wrong. Of course, there are different beans. However, both espresso and coffee can be roasted from the same beans. What makes the difference is the roasting time. In addition, the caffeine content, appearance and preparation also differ in this context.
The roasting makes the difference
Espresso is roasted longer than coffee, so the same type of bean is roasted for different lengths of time. The roasting time for espresso is about 20 minutes, whereas for filter coffee it is about 13 minutes. Thus, after roasting, espresso beans are noticeably darker and shiny, which in turn is related to the excreting oils and fats from the beans. The darker color allows everyone to clearly identify which bean is for coffee and which is for espresso. Compared to coffee, espresso contains fewer acids but more bitter substances due to the longer roasting process. In addition, the high concentration of espresso provides a more intense flavor and is therefore basically more popular than filter coffee.
Different preparation of espresso and coffee
The finely ground espresso powder is strongly compressed in a sieve. Thus, the water cannot seep through and is obtained by strong pressure in the espresso cup. The brewing process for coffee generally takes longer and a paper filter or French press is used for it. Since coffee is usually drunk in coffee mugs and thus in larger quantities, you also consume more caffeine this way, although an espresso has the higher caffeine concentration. When brewed, they differ visually in clarity: coffee is clearer, whereas espresso has a beautiful crema.